How To Measure For Dog Coats And Jumpers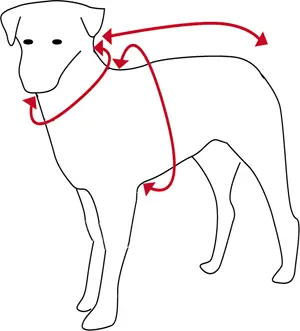 How to measure for dog coats and jumpers – Dog Clothes
It is important to get the right fit for  and its useful to know how to measure for dog coats and jumpers.
For dog coats measure from the base of the neck to the base of the tail.   It is best to opt for a coat that has a wrap around strap so it will fit any size of middle!  If your dog has a long back and slim middle, you may find that some coats are far too large and flap about in the tummy area.
For dog jumpers it is advisable to size up and go for the larger size .
The T Shirt Body is designed to fit snug so accurate sizing is important.
The size chart and breed chart below is for guidance only when ordering dog fleece pet clothing, dog coats, jumpers and the T Shirt body dog clothes available on the Paws Plus One website.
| | | | |
| --- | --- | --- | --- |
| Collar to Tail | Chest | Neck | Size |
| 28–34cm (11–14″) | 33–40cm (13–16″) | 22–27cm (9–11″) | XS |
| 35–44cm (14–18″) | 43–52cm (17–20″) | 30–35cm (12–14″) | S |
| 45–55cm (18–22″) | 55–64cm (22–25″) | 36–42cm (14–16″) | M |
| 56–66cm (22–26″) | 67–76cm (26–30″) | 43–49cm (17–19″) | L |
| 66–76cm (26–30″) | 78–87cm (31–34″) | 49–55cm (19–22″) | XL |
XS – Extra Small

Affenpinscher
Chihuahua
Yorkshire Terrier
Miniature Jack Russell
Manchester Terrier – Toy
Miniature Pinscher
Norfolk Terrier
Norwich Terrier
Papillon
Pekingese
Toy Poodle

S – Small

Bichon Frise
Bedlington Terrier
Border Terrier
Cairn Terrier
Chinese Crested
Cavalier King Charles
Fox Terrier
Italian Greyhound
Jack Russell
Lakeland Terrier
Lhasa Apso
Manchester Terrier – Standard
Miniature Poodle
Miniature Schnauzer
Pomeranian
Shih Tzu

M – Medium

Australian Kelpie
American Water Spaniel
Basenji
Beagle
Border Collie – Small
Cocker Spaniel
English Bull Terrier
Springer Spaniel
Staffordshire Bull Terrier
Tibetan Terrier
Vizsla – small
Whippet

L – Large

Airedale Terrier
Afghan Hound
Border Collie
Boxer
Dalmation
Greyhound
Labrador – small
Lurcher
Pointer
Poodle
Saluki
Schnauzer
Setter
Springer Spaniel – Large
Vizsla

XL – Extra Large

Doberman Pinscher
German Shepherd
Large Labrador
Large Dalmation
Retriever
Rhodesian Ridgeback
Rottweiler
Weimaraner