Winter Dog Walking – Walk Dogs Safely When Cold & Wet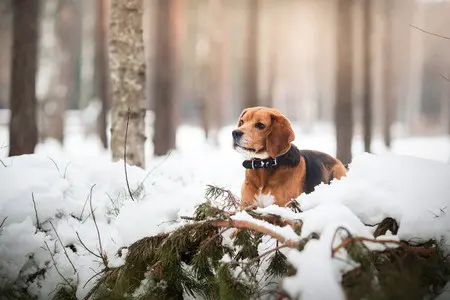 Winter Dog Walks – Top Tips Wintertime Roaming
Getting your walking boots on in the depths of winter dog walking. Walking in the rain, wind and sometimes snow, is not very appealing. However that is part and parcel of dog ownership. Dogs still need to be exercised whatever the weather, but it can be said that even dogs are not always so enthusiastic either! However, you can learn to love your winter walks with the right preparation and kit and still make it fun.
It is best to try and stay within well lit areas and wide pavements and when walking in built up areas. Keep your dog walking by your side away from the traffic. When walking in the dark, always make sure you can be seen. Safety comes above fashion, so invest in some high-visability gear for yourself and your dog. Hi-Vis collars and also dog jackets will make sure he is seen by motorists and by you, especially if he is off lead. Always carry a torch and a head torch is a really good idea to keep your hands free. Walking with friends is a good too, but if you are alone make sure you walk in familiar surroundings. Also consider carrying a personal alarm for added safety.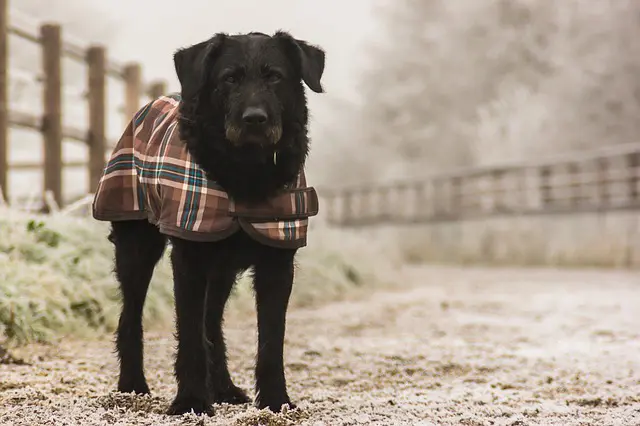 What to wear when dog walking in Winter
Make sure you wrap up warm. Investing in a good quality Gortex waterproof jacket is well worth the cost and will last you years. Add a good pair of waterproof walking boots and/or wellingtons with thermal socks and you are good to go. Don't forget a waterproof cap or hat, gloves and scarf. Consider getting your dog different types of dog coats for all occasions and always keep a spare in the car. The fleece dog coat and jumpers are ideal for putting on your dog after a cold, wet walk for the journey home or during the walk as they are weatherproof, lightweight and warm. Avoid having your dog's coat clipped short during the winter months. Having hair around his feet trimmed will help prevent the build up of ice balls between the pads and toes.
Mud and rain are unavoidable during the winter, so make sure your car and house is wet dog friendly. Dirt trapper house and car mats will absorb mud and moisture and help keep your home and car clean. Another good tip is to recycle old towels and keep handy in the car or by the door to dry your dog off. High absorbent dog towels are also useful to keep in the car for drying off after very wet walks or a hose down to remove mud when you get home.
Always check the weather before you plan your walk so you are prepared for the conditions. If it does start to snow heavily, always recall your dog and put on the lead. Snow can affect his sense of smell and could make him feel a bit disorientated.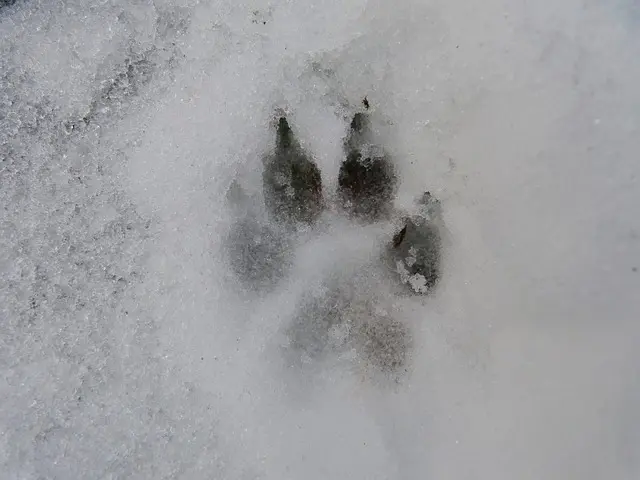 Does this sound off putting-  Pros & Cons Winter Walking
Popular areas that are normally jam packed during the summer, tend to be a lot quieter during the wintertime. You cannot beat a frosty winter walk with a touch of winter sun – perfect for some photography. But do beware of flood water as there is often a strong current, so keep your dog under control.
Winter walking often means you have to keep your dog on the lead, but that doesn't have to be boring. Let him sniff – smells are very important and using the nose keeps your dog's brain busy. So give him time to check out the wee-mails. Changing your usual route helps or walking the other way round to make it a bit more interesting. Take a toy with you and stop regularly for a game. Balls are great. Also if your dog needs to top up his training, this is the best time to do it. Make the most of your time together and brush up on basic commands like sitting at the roadside before you cross the road. You can find more information for safe dog walking here.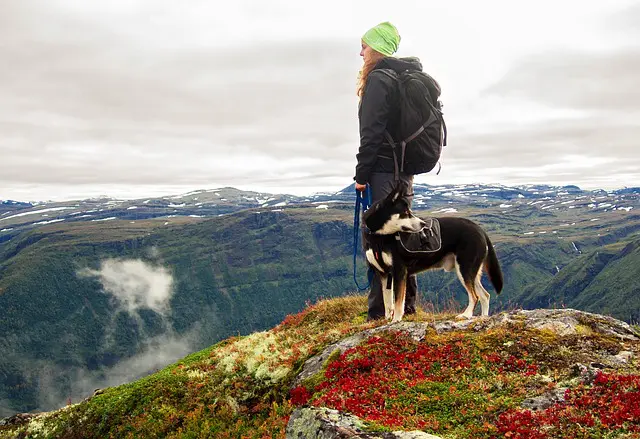 Another consideration is that walking through mud and snow means that you have to lift your legs higher, this uses more energy and more calories burnt! So, when you get home after an invigorating walk, there is nothing better than a well earnt mug of hot chocolate and a favourite treat for your dog and a soft and snuggly blanket and dog bed!