Top Dog Bed Reviews – Quality Canine Beds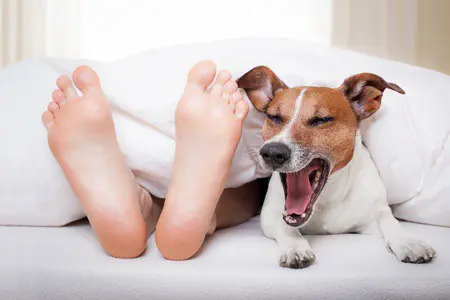 Best Dog Beds – Pet Bed Review
The dog's on the bed again! Does that sound familiar? All dog's need their own space, but they do like comfort and who can blame them! Having a dog in the bed is not everyone's cup of tea. There are many reports on the pros and cons of having a dog sleep in the bedroom from given health benefits to it promoting bad dog behaviour.
At Paws Plus One we think all dogs need a good comfy bed to call their own instead of a dog in a bed! We have set out to provide a good selection of beds for dogs of all shapes, size and lifestyle. Getting the right bed is not an exact science. Watch your dog's body language and how he settles for his night sleep. A review of all our dog beds may help your decision when looking for a new dog bed.
Does your dog travels a lot in the car?
Having your dog in the car does mean lots of mud and dirt, especially in the winter months. Our new boot bed is the answer. It transforms your car boot into a purpose made special place for your dog. The bumper protector, attached by Velcro, stops the paint scratches and is easily removed. The bed has cushioned protection all around to keep your dog secure and comfortable with enough space to stretch out without rolling around. A tough waterproof outer, it just needs a wipe down with a damp cloth to keep clean. When not needed in the car, the bed can be used outside for kennels or indoors. It would be a great dog bed for camping and caravanning. Especially useful for the working dog.

Have a big dog who needs a Large bed to stretch out?
Larger breeds tend to prefer mattresses because they can lounge and stretch out. Paws Plus One has a great range of luxury dog bed mattresses. We love the Beco range as all their products are produced with the planet in mind. All Beco products are made from recycled products and the stuffing for the Beco mattress was made from used plastic bottles! As a bonus it is also an hypoallergenic bed made from cotton and hemp. A very sturdy, deep and soft mattress. The large size would suit a Labrador size dog. If you have an older dog or one that suffers from arthritis or injury, a memory foam mattress or an orthopaedic mattress may be the best option to give good support with comfort. Paws Plus One has both memory foam and orthopaedic beds in stock. Our orthopaedic mattress is a top of the range bed which is made with pocket springing just the same as a human bed. It gives superb support and will last for years. Our memory foam mattress is very popular. It is made with human grade memory foam. Has soft moisture wicking removable washable covers and a good selection of sizes to suit most breeds. Two large ones put together would easily accommodate a Great Dane!
In addition Paws Plus One has a good selection of mats and mattresses in some great designs to suit all home decors. One of our favourites is the Newton range Box Duvet. It is such a stylish design in great country colours and a really good sturdy and comfortable bed.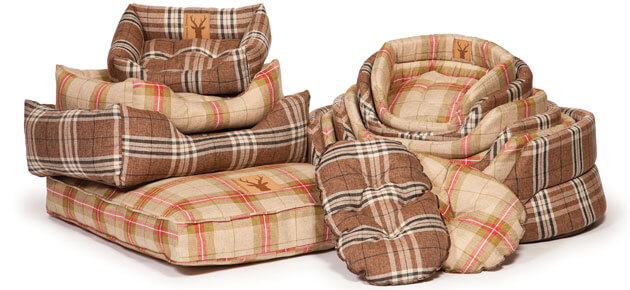 Do you have a new puppy?
Look no further for a great puppy first bed. This innovative design has thought about everything. The removable inner ring allows the bed to 'grow' with the pup so it will last longer. Supportive and cosy soft to snuggle into. Thereis a pocket at the bottom of the bed which will take a heat pad. A great idea to keep the pup warm when missing mum. Heat pads can be bought from most chemists, or you could use a small hot water bottle. In addition to that, there is a pocket at the side of the bed. This could be used to store a favourite toy. If the pup is particularly unsettled a good idea is to put in a ticking clock or something similar which could mimic the sound of mum's heart beat! Your puppy is bound to love his first bed.
Does your dog prefers to curl up and sleep?
Some dogs prefer to be supported in a circular or rectangular bed. Even bigger dogs sometimes prefer the traditional bed. The Slumber dog couch comes in an Extra Large size that would easily accommodate a larger breed such as GSD or Retriever. The Deluxe Slumber or Snuggle beds are really sumptuously padded and very supportive for great dog zzzzzzzzzzzzz's for the smaller dog. The Beco Donut bed is a very popular bed for dogs that like to have a pillow. It is cleverly designed to give good support, but the donut design also provides a slumber pad for the head. As with all Beco products it is produced using recycled items.
Do you want a dog bed that looks good in the house?
Look no further PP1 has the perfect hand made solid oak dog bed that has a 5 year guarantee. It is a stylish piece of furniture which is 100% fit for purpose. Couple up with one of our mattresses and you have the ideal dog couch that will compliment your chaise lounge! We have a size to fit most breeds. If necessary it could be made to measure to make sure you get just the right fit for your dog and your living room. The perfect dog sofa bed which will keep him off your sofa!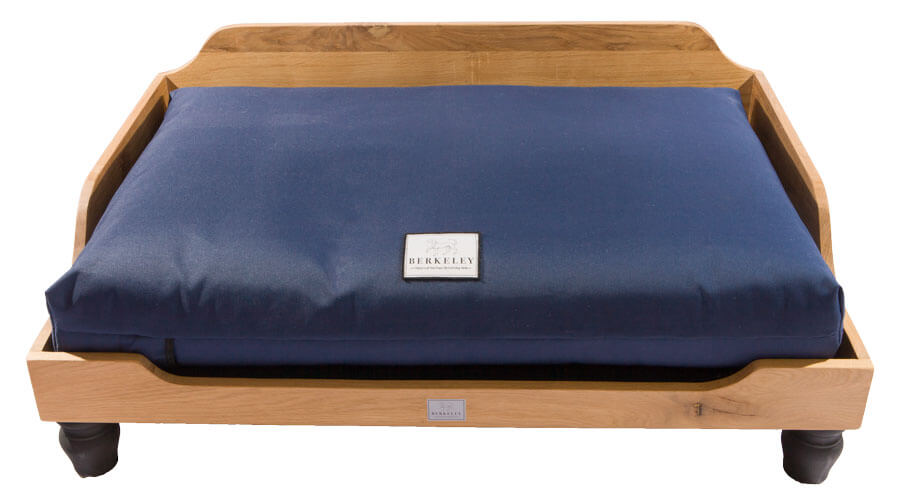 You need a bed that is waterproof and tough for working dogs outside ?
Paws Plus One has a great heavy duty, waterproof range. We like practicality, so all our waterproof range are specifically selected to be fully machine washable dog beds. Manufactured with a hard wearing, waterproof fabric, this range is just the job for working dogs and dogs that enjoy a lot of outdoor activities. The Country range is tough and muddy paws just wipe away. Deep duvet mattresses and cage mattresses are available in this range which are great for use in the car and at home. For working dogs that are kennelled, or for use in the garden we have a great raised dog bed with a waterproof wipe clean base. The sturdy steel frame is strong and supportive. The bed is off the floor away from damp floor and draughts . Great day bed which could easily be folded up and taken in the car or caravan. The car boot bed is also a useful, versatile item for a working dog. It can be transferred from the car to use outside or indoors and is fully waterproof and tough.
Your dog chews the bed?
No dog bed is indestructible. If your dog is young or just loves to chew, the best option is to go for a tougher working dog bed that will last longer than the softer type. A plastic bed could be the answer. Luxury deep filled quilted mattresses that are specially made to fit oval plastic beds are available in various designs.
If you have any questions about this top dog bed guide or require any assistance in choosing the correct dog bed please do not hesitate to contact us at Paws Plus One