Best Chew Toys For Large Dogs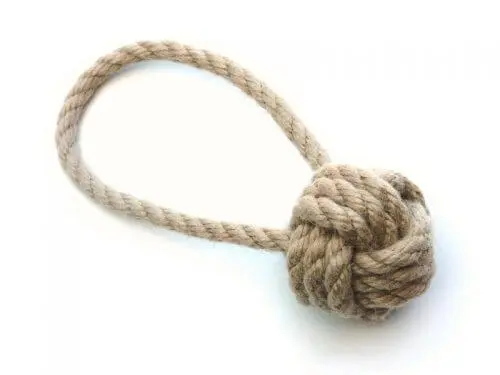 Strong Chew Toys for Large Cannine Breeds
Looking for a strong dog toy? Whilst no toy is indestructible, one of the best materials for dogs that are heavy chewers is a dog rope toy and an ideal toy for labs to chew on.
Rope style dog toys are one of the best because of their durability. The fibrous material is strong enough to withstand vigorous power chewing, it is a natural product and the added bonus is that it is also good for teeth cleaning! One of the best toys for active dogs as they are very easy to wash after being thrown around outside.
Dog rope toys come in various shapes and sizes. Toy ropes can be braided or woven. Some braided dog toys may have multiple knots and some can have plastic handles or rubber balls attached. Whichever toy rope you choose make sure it has significant length and is big enough for your dog to chew on without swallowing. Always remove any plastic pieces that come adrift from any dog toy.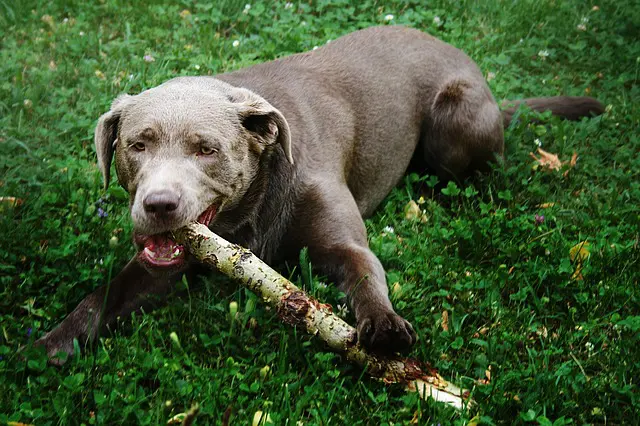 Large Dog Rope Chew Toys
Playing tug of war with a rope toy is good esteem building, especially if the dog is lacking in confidence. Letting him win at tug will boost his confidence, but do not allow him to win too often as it may turn table and create a behavioural issue. Teach him that playing tug is fun, but when you want it to stop he has to accept the game is over. End the game with a command e.g. 'finish' or 'end', drop the toy and walk away.
Dog rope chews are appealing to most dog breeds. They are reasonably soft and flexible and if soaked in cool water, rope toys can be soothing for teething puppies and a great chew for general dogs teeth and gum health.  Labs and Spaniels, in particular, will love to carry the braided rope around. Always supervise pups with toys. Bigger dogs who are aggressive chewers may eventually shred the fibres and ingest, so again supervision is necessary at all times.
The monkey nut rope dog toy is a great idea for dogs that like to retrieve. It is easily slung by the handle making it a great dog toy for the outdoors.
Paws Plus One has a huge selection of rope toys and we consider these to be the best chew toys for large active dogs.