Perfect Dog Beds Guide – How to choose pet beds?
Choosing the best dog bed for your pup
There are many things to consider when choosing a dog bed for your canine:
Is your dog destructive?
Is your dog elderly and/or have health issues?
Do you have a large, medium or small dog?
Does he like to stretch out or curl up?
Does your dog overheat or feel the cold?
Obviously you have to consider the size of your dog, but also his personality. Many dogs will chew up anything fluffy and some are very aggressive bed makers and scratch. This behaviour can mean dogs need new beds quite often and you may wonder why they do it. Bed making is instinctive and is inherited behaviour that still exists in domestic dogs. For our dogs ancestors, scratching, trampling and moving the sleeping area around would have moved stones, sticks and leaves to make the bed more comfortable. Just as we plump our pillows and duvet to make our bed more comfortable. Dogs also have glands in their paws that leaves a distinctive odour when they scratch. Bed scratching could also be territory marking behaviour. You may see a tatty blanket or bed, but your dog will see and smell a perfect place to call his own.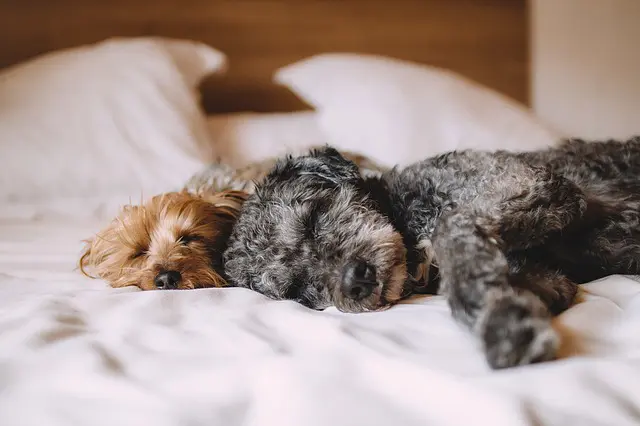 Bed styles and sizes
Find a bed to suit the size of your dog and also how he likes to sleep. A bed that is too big may make your dog feel insecure and could also be a bit draughty! The donut or nest bed is a good style for a dog that likes to stretch out but prefers to have a 'pillow' or dog cushions to rest his head. The Beco donut bed supplied by Paws Plus One is tough and durable, washable and also eco friendly being made up of recycled products. This is an extremely comfortable dog bed and a firm favourite with our family Springer Spaniel.
The traditional raised sided dog bed is ideal for dogs that like to curl up. The raised sides give support and the bed can be shaped square or round. You can find a traditional style bed in many sizes to suit all dog breeds, but for a dog larger than a Labrador a mattress type bed would probably suit better to give room to stretch out.
Paws Plus One has a selection of mattress beds including washable waterproof beds for use in the car or for working dogs and those dogs who regularly come home wet and muddy.
Smaller dogs and toy breeds are more likely to feel the cold and would appreciate warmer bedding and blankets. To make it extra special, personalised blankets are available through Paws Plus One website. All dogs like warmth and these blankets are good quality, lovely soft easy care fleece. They would make an ideal present for Christmas or a doggy birthday!
Outside canine beds
If you have working dogs or dogs that live outside in kennels, the raised dog bed is ideal to keep them off the cold floor. They are also a great idea for camping or caravanning holidays too as they are easy to assemble and pack away. They come in all sizes to accommodate larger dogs as well and are sturdy and well made and can be washed down. The raised bed is recommended and used by our working cocker spaniel.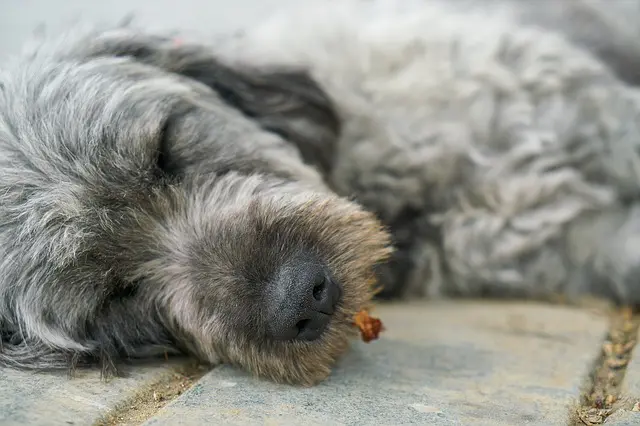 Beds for elderly dogs
If you have an elderly dog or a dog that suffers from arthritis, to ease those aches and pains and stiff joints, a memory foam mattress would really help. Or if you really want the very best for your dog, try an orthopaedic mattress. Much like our human beds the Paws Plus One orthopaedic dog bed contains many individual pocket springs, housed in fabric pockets, all working independently of each other. This means that support is offered from the edge to the very centre of the mattress.
The pocket springs in this dog bed allow your dog to either curl up or stretch out with ease. This helps to provide an ideal balance of joint support, even weight distribution, insulation and cushioning.
Whichever you choose, make sure you keep your dog's bedding clean and remove any beds that get chewed. Many dogs have had vet visits to remove intestinal blockages due to eating non food items.
If you require any help or assistance in choosing the best dog bed please do not hesitate to contact us