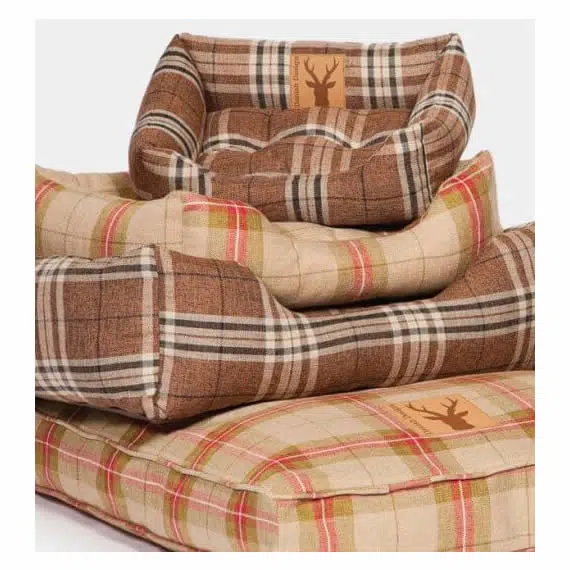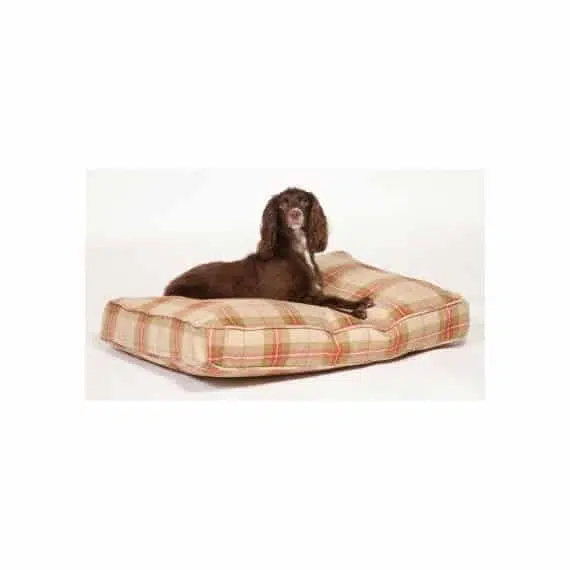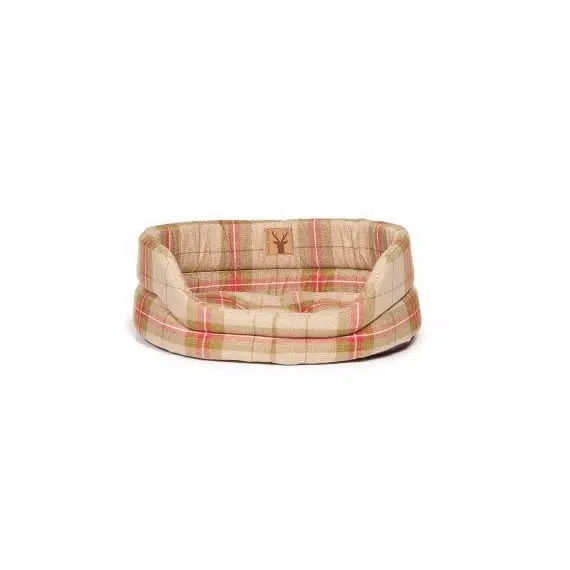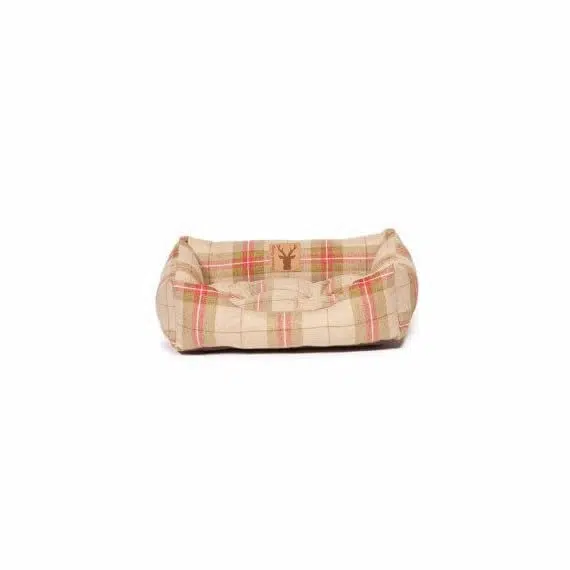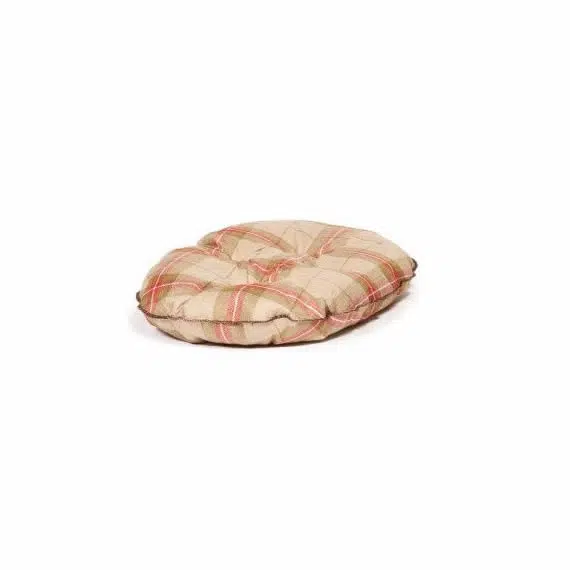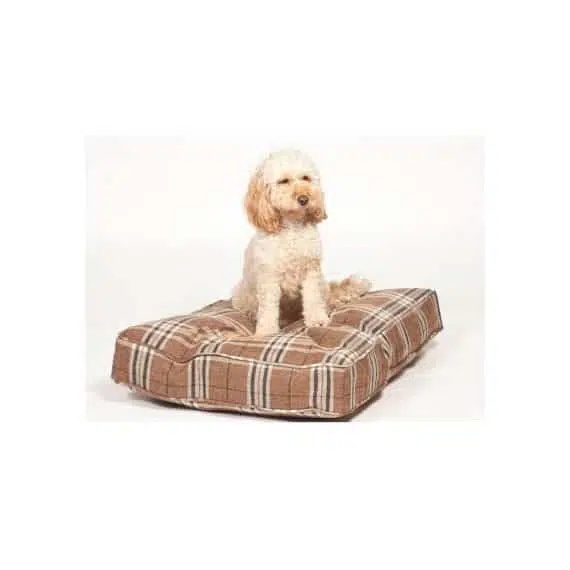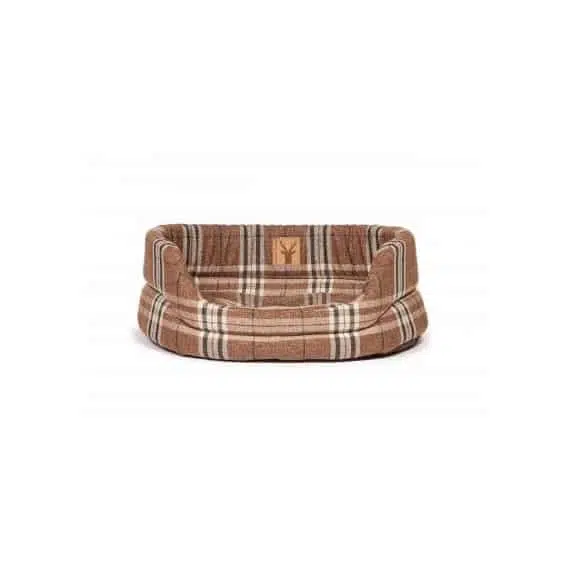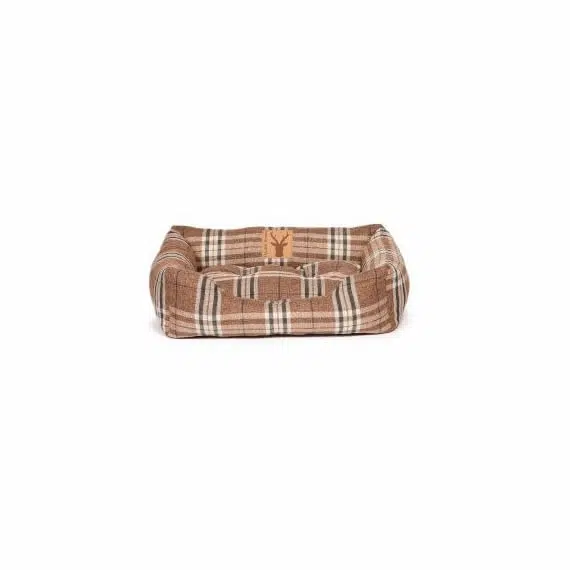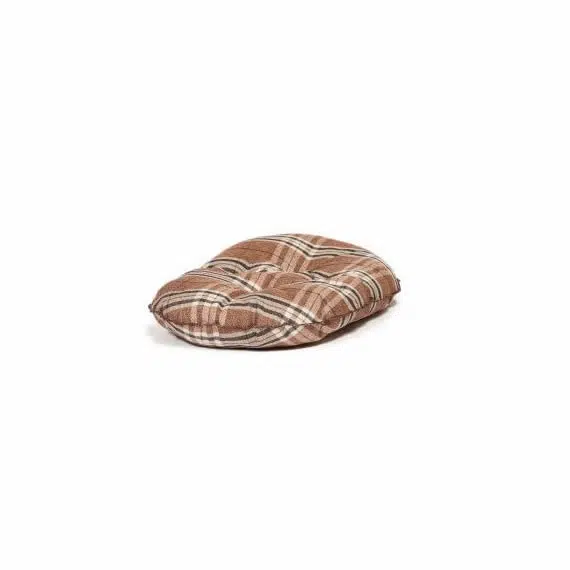 Comfortable Snuggle Dog Beds- Danish Design Newton Range
Cozy dog snuggle bed by Danish Design
The Newton dog bed range is a true reflection of the natural colours occurring in the British fields and woodlands. A traditional design manufactured from a hard wearing 100% polyester fabric, the Newton Range will bring style to any home. It is available in two fantastic colourways e.g. Moss with subtle hues of green, beige and red and Truffle with rich browns.
This range can offer two types of dog bed and a super deep fibre padded Box Duvet with the addition of a quilted mattress which can be used with a plastic or rasied bed if you prefer
The Slumber bed is a traditional basket shape bed which has a deep soft polyester fibre base and sides. The fibre base cushion is attached with Velcro fastenings so it can be readily removable for washing. This bed comes in seven sizes so you are sure to find one that suits the smallest and largest of breeds.
The Snuggle bed is a rectangular bed with a drop down front for easy access. It features a well padded polyester fibre base and deep filled fibre shoulders for enhanced comfort. The complete bed is fully washable and the base cushion is also removable for a separate wash when needed.
If you have a dog that likes to stretch out, you may find a mattress bed suits your requirements and the Newton range has a fabulously deep Box Duvet. The box duvet is available in two sizes Medium 88x67x12cm and Large 125x79x12cm and is deep filled with thermal polyester fibre for softness, warmth and comfort. The outer cover is easily removable by zip fastener and the whole mattress is full washable. Spare covers are available.
The Luxury Quilted Mattress is also available in this range. Filled with supersoft polyester fibre, this type of mattress is designed for use with an oval plastic bed to give it a more comfortable and luxurious feel. It is available in eight sizes ranging from 45cm up to 101cm.
£13.75 – £74.99
Compare
All dogs deser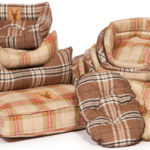 ve a good bed and choosing the right dog bed for your dog is sometimes confusing. The traditional shape of the Slumber bed is popular for all breeds of dog. Larger dogs may find this shape with its higher sides more comfortable to snuggle in than the fuller padded beds. The Slumber also has a wide size range so you are sure to find the best fit.
The Snuggle bed has fibre padded cushioned sides to give your dog extra support and comfort. Some dogs like to rest their head and use the sides as pillows. The sumptuously deep filled Box Duvet is a fabulous mattress type bed for all breeds and all types of sleeping styles. If you dog chews his bed and you have opted to use a plastic bed, make it that bit more comfortable and thermal with a Luxury Quilted Mattress. The Quilted Mattress comes in other designs as well so check out the other ranges.
Comfortable Snuggle Dog Beds- Danish Design Newton Review:
The traditional design and classic country colours of the Newton range provides a very stylish dog bed product that will blend in well with all home décor's. In addition you will be providing your dog with a high quality dog bed.
All Danish Design beds are manufactured to meet British Standard 5852, 1982 part 2, source 5, and the fibre used in all products is fire retardant and complies to Fire & Safety Regs 1988 BS 5852 Ignition Source 2. All beds and mattresses are fully washable on a 30 degree wash or handwash.
| | |
| --- | --- |
| Type | Slumber Bed, Snuggle Bed, Box Duvet, Quilted Mattress |
| Design | Moss, Truffle |
| Size | 18" 45cm, 21" 53cm, 23" 61cm, 24" 61cm, 27" 68cm, 28" 68cm, 30" 76cm, 33'' 84cm, 34" 89cm, 35" 89cm, 36'' 89cm, 40" 101cm, Medium 88 x 67 x 12cm, Large 125 x 79 x 12cm |
YOU MAY ALSO LIKE..
Includes products updated are similar or are same of quality