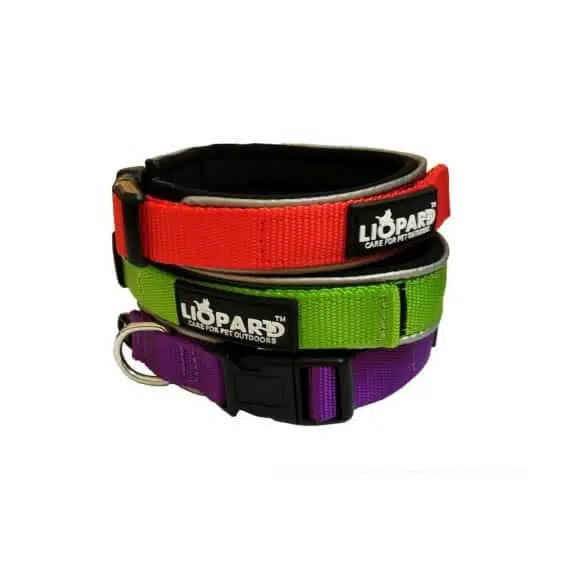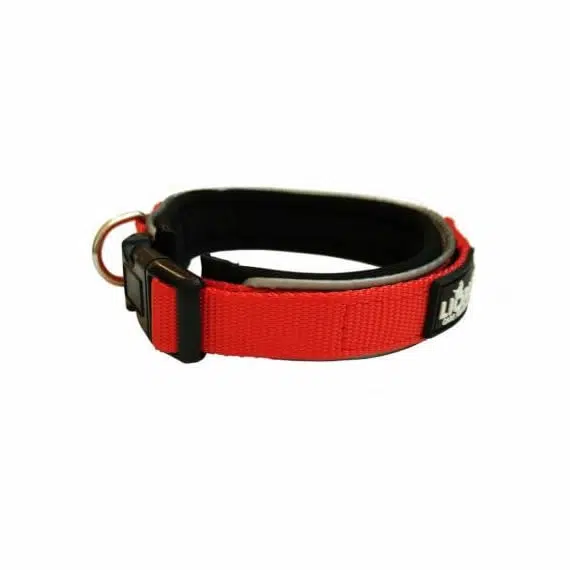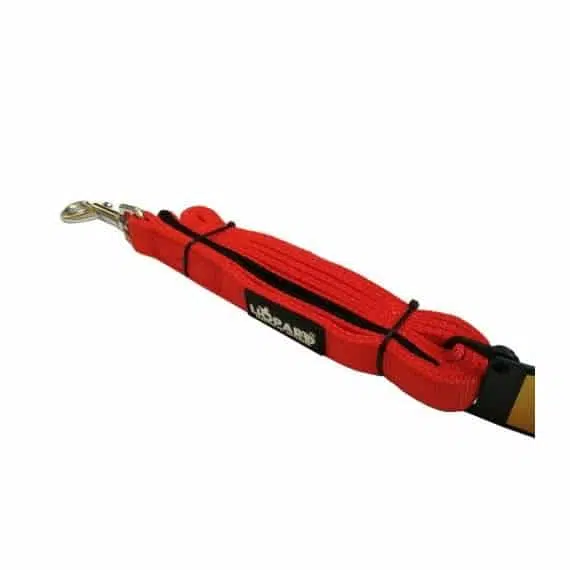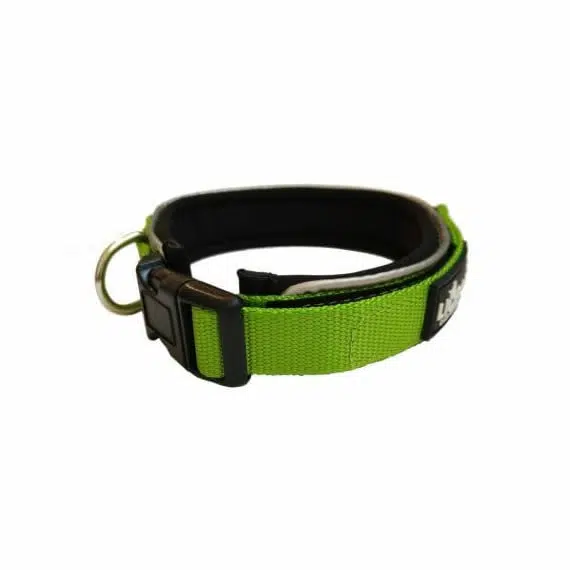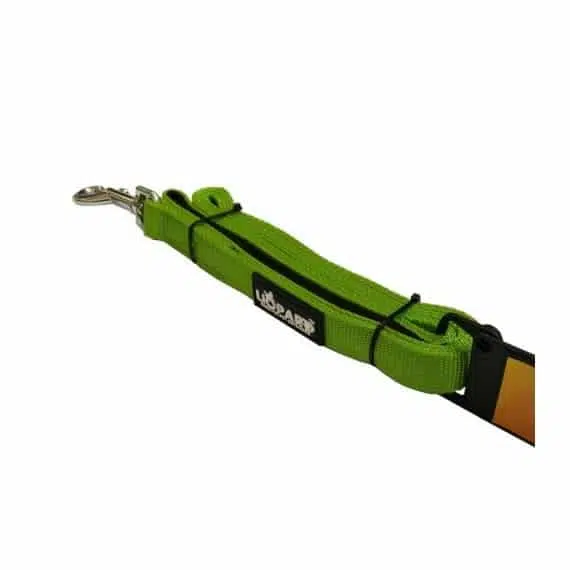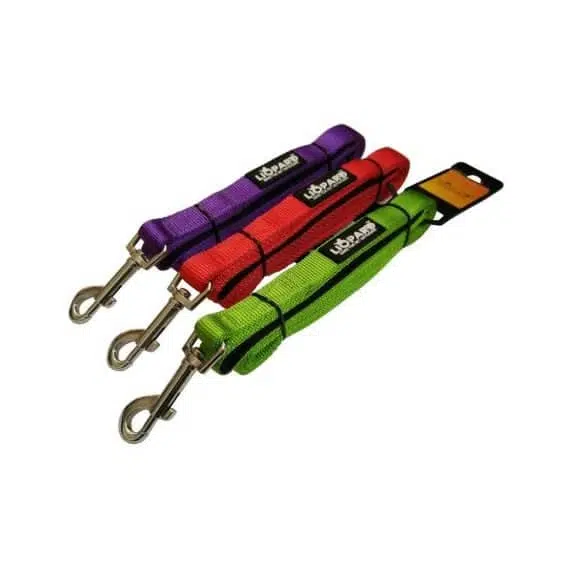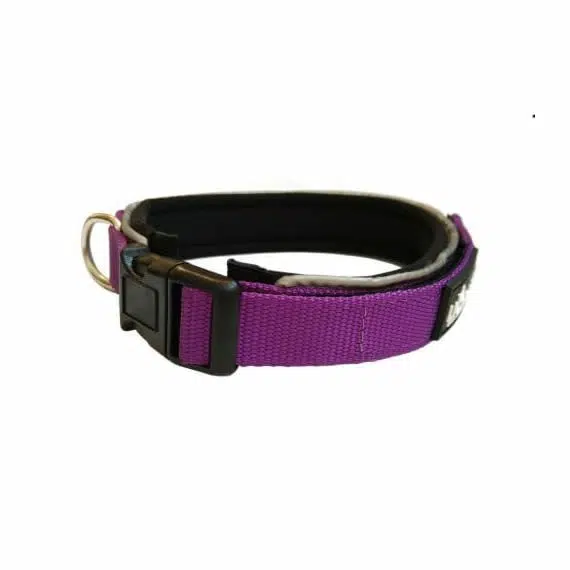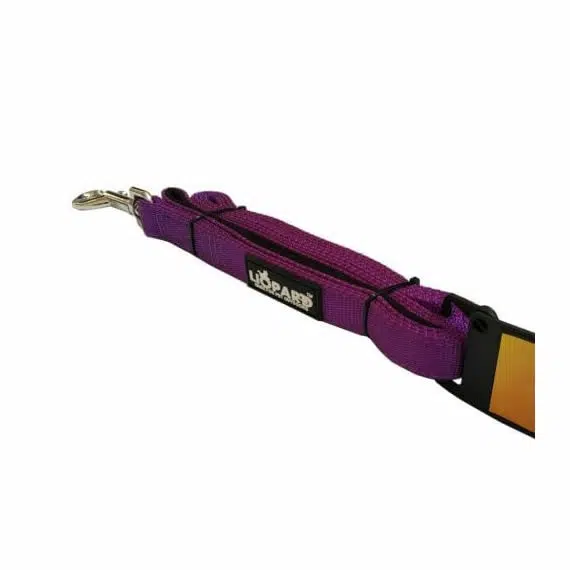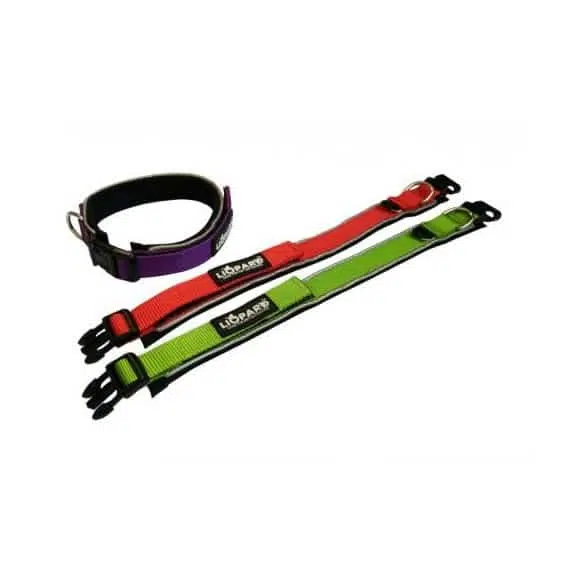 Padded Nylon Collar & Lead Set
Padded dog collar and lead set
Our padded dog on a lead set are made from strong, hard wearing and waterproof nylon webbing. They are padded with thick breathable neoprene to give extra comfort and are suitable for regular use. Available in three vibrant colours orange, lime green and purple featuring high reflective piping for improved visibility at night. Quick release plastic buckle with a good quality D ring. Four sizes available to fit most breeds. The collar has adjustable velco to give a good fit, but to make sure you get the best size, measure your dog's neck with a fabric tape measure. To ensure it is not too tight you should be able to fit two fingers underneath comfortably. There is also a matching dog lead to complete the set.
Brightly coloured collar and lead made from strong, wear resistance nylon webbing, These collar and lead will stand the test of time and has a thick neoprene padded lining for extra comfort when wearing. Plus, the reflective piping around the collar highly visible and fluorescent making it ideal for evening walks.
Size Neck Size:
Small (collar width 2.0 cm) 35-40cm
Medium (collar width 2.0 cm) 40-45cm
Large (collar width 2.5 cm) 45-53cm
Ex-large (collar width 2.5cm) 53-61cm
Matching Nylon Lead
Length: 120cm
Width: 2.0cm
£25.00 – £32.00
Compare
These dog collars and leads are strong and hard wearing and are great for dogs that like the water as they are quick drying and will not stretch. Would look good on any breed small or large dog and we love the vibrant colours which add a touch of fun. By buying this set you will not need to look for dog collars and leads separately as the set has both of them.
Padded Nylon Dog Collars and Leads – Dog on a Lead Set Review:
It is now law that every dog must wear a collar with a tag showing its ownership details. This is in addition to being chipped Read more. A really good dog on a lead set to use if you normally lead walk your dog with a harness.
Padded Nylon dog Collars
This is a great collar for our dog who loves to swim and the reflective edged piping makes sure we keep sight of him in poor light. The adjustable band on the collar is also a great idea so we can adjust to tighten or loosen a little bit depending on how thick his fur is before and after he has been clipped.
A great collar and lead set to use on countryside walks. It is quick drying for dogs always in the water and easy to wipe down if it gets dirty. We found it very comfortable to use and grip and also lightweight to carry around.
Padded nylon dog lead
A strong hard wearing lead with padded neoprene which makes it a very comfortable dog leash to hold and grip. The high reflective piped edges makes a useful addition when walking your dog at night or in poor light. Three vibrant colours in orange, lime green and purple to match the padded collars to make a great collar and lead set. The lead length of this dog lead is just right for loose lead dog walking.
This is a strong lead set that would be suitable for most dog breeds. It is comfortable to handle, especially for those that pull hard. The sturdy nylon webbing is quick drying and easy to keep clean. The bright colours make it a fun dog collar and lead set. That will lift your mood even in the wettest of weather!
Which Dog Lead is best? Which Dog Leads will Stop Dogs Pulling?
| | |
| --- | --- |
| Collar Size | Small 35-40 cm, Medium 40-45 cm, Large 45-53 cm, X-Large 53-61 cm |
| Collar | Red, Green, Purple |
| Lead | Red, Green, Purple |
YOU MAY ALSO LIKE..
Includes products updated are similar or are same of quality
Sale