Walking in the Durham Dales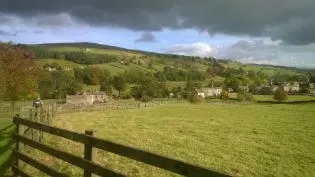 Walking in the Durham Dales
If you haven't visited the Durham Dales, you are missing a treat. Fabulous dog walking and stunning scenery. Stanhope (pronounced Stanup) is a tranquil and picturesque market town at the heart of the Durham Dales and is a great place to base yourself for outdoor activities. It has a brilliant visitor centre and plenty of amenities, good bed and breakfast and a dog friendly pub! We stayed at Unthank Hall, which is a large fabulously refurbished historic Grade II listed 16th century country house. It can sleep 7 people and is dog friendly with beautiful views and a large walled paddock for safe dog exercising, area for children to play and BBQing, or just to sit and enjoy the surroundings.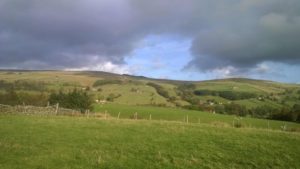 The River Wear runs through the town and walkers can cross  the river at the ford using massive stepping stones. There is  also a riverside walk.
Stanhope has the county's only open-air heated pool, where  swimmers can enjoy the relaxing experience of a warm  outdoor swim within stunning countryside. Another  fascinating thing to see is the famous fossil tree which sits in the graveyard of the 12th century church of St Thomas and is approximately 320 million years old!
Tried and tested Durham Dales walk through woods and farmland with streams and rock valleys and open moorland : Stanhope Burn and Crawley Edge – circular walk 4.5 miles moderate varied terrain. From B6278 to Barnard Castle leaving Stanhope, take farm track at green and white finger post on right hand side. Follow track with burn on right hand side, past farm buildings keeping right of stone outbuilding. Then take right of the farmyard on to a grassy track towards the burn.
Don't cross bridge over burn, but keep left keeping burn on right hand side (path runs between fences towards 4 bar metal gate). Enter woods and keep to major path. Cross small footbridge, then another concrete bridge with metal handrails. At this point woods and burn are now mainly on right hand side. Farmhouse in distance on left hand side. Valley gets deeper and rockier on right hand side.
Cross another footbridge over small stream that joins the burn then shortly keep left as a bridge turns right across the burn – do not cross burn.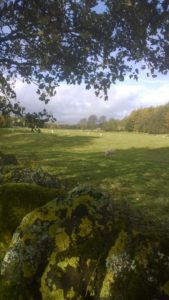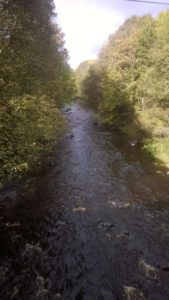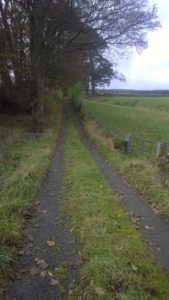 Path bears left down into a gully  then crosses a side stream via a  small wooden bridge. Keep  going ahead up a number of  earth and wood steps. At top of  steps there is a field on your left  hand side and burn on your  right. Keep to path close to  fence then follow it as it bears  right and downhill into valley.  The path climbs again to reach  another fence on your left –  stone farmhouse a little further away in distance ahead. Follow path as it bends left along the bank of steam on your right hand side as you walk. Look to your right after a short distance to see a small waterfall in the valley. Keep ahead until you reach stile – cross to reach large 6 bar metal gate. Turn right through gate and follow enclosed track between farm buildings until you reach a fork. Take right hand fork downhill (not through metal gate). Cross bridge over burn and follow track as it bears right past disused building. Turn left uphill a short distance before a warehouse type building and cross stream. Follow clear semi made track along a fence at first and then left hand side of a stone wall.
Continue ahead through 6 bar metal gate marked by a circular footpath sign and open access land sign (also dog restriction sign other than for public right of way). Keep to main track as it bears right and downhill. Track bears hard right uphill towards B6278 road passing metal seat as it goes. Cross directly over road onto a track, then after less than 50 mtr, turn right on to a clear track. Track uses an embankment for part of the way as it runs towards buildings and is parallel with the road. Just before buildings, bear left with the track away from the road (Crawley Side Bank). Follow obvious track away from buildings and road (i.e. going broadly east with a higher ridge and communications mast to your left).
Some way on, track starts to descent and take right hand fork. After approx 80 mtrs track joins another coming from the left. Turn right towards building and pine trees. The track passes to the right of largest buildings to reach a lane (East Lane) via a 5 bar wooden gate. Turn right and follow lane downhill back to Stanhope.
Useful links for Stranhope: