Warm Dog Coats & Jackets
All our dog coats and jackets are suitable for all weathers. In the wet cold winter months it would be unthinkable to go out without a warm dog coat. It's no different for your dog! Not all dogs have thick double coats to battle the cold winter temperatures and it most definitely is not waterproof!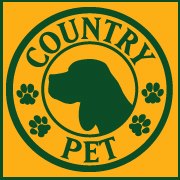 Green and Navy Country Pet Quilted Dog Coat for a smart country dog!
A Classic diamond quilted dog coat with traditional tartan lining and courduroy collar and trim. Velcro fastening for easy adjustment.
Machine washable. Available in green and navy and sizes 40cm, 45cm and 52 cm.
Before ordering, please measure your dog from base of neck to base of tail.
As a guide, 40cm is small and will suit a Jack Russell size dog, a 45cm is medium and would suit a West Highland Terrier size dog and Large is 52 cm and is Springer Spaniel / Boxer size.
Coat can be ordered in XLarge 65cm (Labrador size) and XXLarge 75cm (Retriever size).
We are happy to order any size that we do not have in stock via [email protected]